2017年11月18日に第四回のワークショップ型ジョブフェアROMA(Recruiting Optimization Matching Academy)を開催しました!
On November 18, 2017, the 4th workshop type job fair, ROMA (Recruiting Optimization Matching Academy), was held!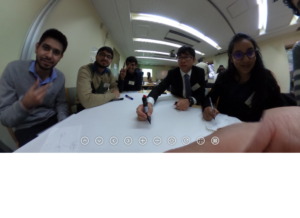 ROMAでは映像をたくさん撮ります。ROMAに来場できない企業に対しても、映像を企業の人事採用担当の方にお見せすることで、より『人物本位の採用』を検討してもらえます。
A lot of pictures were taken during ROMA. Even for companies that could not visit ROMA, by showing the videos to the companies` Human Resources recruitment personnel, it can considered as "more people-oriented recruitment".
グループによるワークショップでは、単なる履歴書情報では伝えきれない
In a group workshop, it can`t tell just by information from a resume
☆個性 ☆リーダーシップ ☆チームワーク ☆論理性 ☆日本語力 ☆マナー ☆表現力 ☆タイムマネージメント 他
☆ Personality ☆ Leadership ☆ Teamwork ☆ Logic ☆ Japanese ability ☆ Manner ☆ Expressiveness ☆ Time management and others
を示すことができます。留学生の皆さんは、日本的な就職活動に慣れていません。ですから、この機会を通じて、企業にアピールをしてもらいたいと思っています。
can be seen. International students are not used to Japanese job hunting activities. Therefore, through this opportunity, I would like to appeal to the companies.
参加する学生一人一人に、下記のようなPromotion用ページを作成するので、就活にも役立てます。
We have created a page for Promotion for each student who have participated, as below, so that it will be useful for job hunting as well.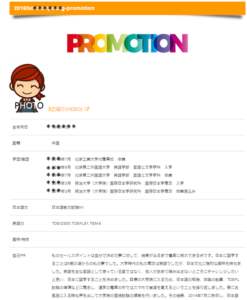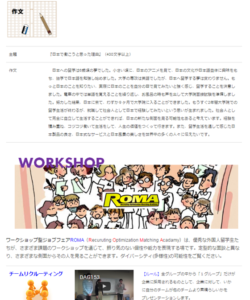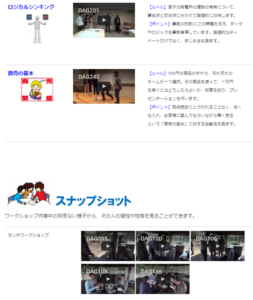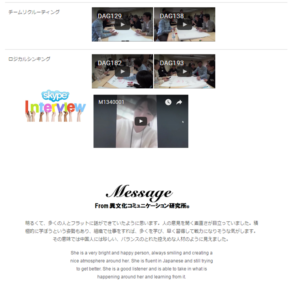 日本での就活を希望する皆さん、この時期(冬)の就活はとても厳しいですが、あきらめずに頑張りましょう!
For everyone who wishes to be hired in Japan, this season (winter) job hunting is very tough. Let's do our best without giving up!
神様が皆様に微笑んでくれることを、心から期待して!
I hope from the bottom of my heart that God will smile at you!
私たちも頑張ってお手伝いします!!
We will try our best to help you!!