すでに、日本は『日本人』だけの国ではなくなっています。
Japan is already no longer just a『Japanese』country.
既に日本に住んでいる外国の人たちは、200万人を超えています。データによれば、栃木県や群馬県の人口よりも多い人たちが住んでいます。
There are already more than 2 million foreigners living in Japan. According to data, they are more than the population of Tochigi or Gunma prefectures.
さらに、働く年代だけで見ると、なんと『30人に1人』は外国の人たちです。
Moreover, looking at the working age population, 1 in 30 is a foreigner.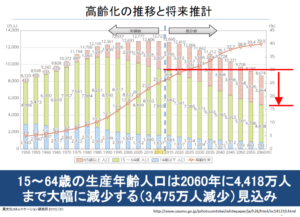 またあと40年もすると、日本人の働く世代は半分近くになっています。
In another 40 years, the working generation of Japan will be about 50%.
ドイツの人口もざっと8000万人で、就労人口は約4000万人ですから、あたふたしなくても良いのですが、それでもいろんなことが変わっていくでしょう。
The population of Germany is about 80 million people and the actual working population is about 40 million, so there is no haste but various things will have to change.
大切なことは、この日本という文化、風土において、日本人だけでなく、日本を愛してくれる外国の人たちが仲良く生活していくことですからね。(^^)
The important thing is that not only Japanese people but foreigners who love Japan to live in harmony. (^^)