A Japanese salaryman or woman`s business card (Meishi) contains their company`s name, address and telephone number, as well as their own name and official title.
Business cards are an extremely important tool in Japan, because they testify to the owner`s identity. Any person without a card will be dismissed as a business entity, no matter how capable they may be.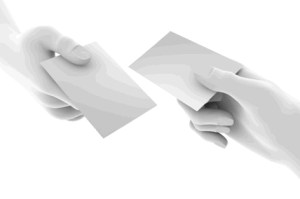 The title on the name card is the single most important factor in judging a salaryman or woman`s business worth.
A company`s reputation will often be judged by it`s address. Those companies located in the major business districts in the centre of Tokyo like Otemachi and Nihonbashi, where land prices are very expensive, tend to be highly evaluated. Those in the suburbs, residential areas or entertainment districts are not looked on so favourably.
One standard of reliability is whether a company owns its own building or simply rents office space. Two phone numbers, one for the main switchboard and the other for the cardholder`s own desk, will create an impression of a large company.
Later, I will touch on how to use the business card in Japan.